Stop Wasting Money and Time – Business Is Easy and Simple at the Top!
Bear witness to the economic blueprint used around the world to make the rich wealthier and the poor more dependent on the top 5%. Every person in the world that is working on personal economic growth and development needs this primer. Regardless, if you decide to play in politics, climb corporate ladders, super-size a small business, consume to be cool and comfortable, or work to be worthy; you should witness the power of the Jonyprofit Socioeconomic Blueprint. You will never think the same again!
Let's Be Clear – What you will not get…
NO! Get Rich Quick Hype
No pictures of fancy cars and jets, talk of millionaire lifestyles and easy living. No Think and Grow Rich, be like Trump Silliness, or distractions about little companies that went big.
NO! Follow Your Passion
No you can do it if you just believe, try harder, or join more network groups full of other broke people looking for a buyer. No I'm a professional motivational speaker, life coach, media producer, social media guru, author, blogtalkradio personality, e-book publisher, and Facebook hero with only your success on my mind :-/
NO! Grants & Minority Bull
No join me because the government has millions you are missing out on and I will show you how to get grants, contracts if you just take my class and buy my books.
NO! Get a list together and call until you annoy them
No pyramids of players on top and the played on the bottom, no downlegs, uplegs, sidelegs. No multi-level pricing for success – lil success $195, good success $395, ultimate success only an investment of $1995 plus $200 per month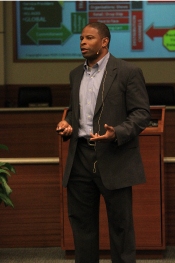 For more than 25 years, Jonyprofit has been an advocate for the advancement of entrepreneurship.  An accomplished entrepreneur and business developer, John has continuously developed innovative methods for teaching people how to stay prosperous through self-employment.
Over the years, John has worked side by side with many powerhouse business support programs such as;
Goldman Sachs 10,000 Small Business Initiative
Houston Community College Center for Entrepreneurship
Texas Business Alliance Youth Entrepreneurship Academy
Housing Authority of the City of Houston(HACH)-Economic Development
Multi-Cultural Alliance
SCORE (Service Corps of Retired Executives)
Houston Area Government Guaranteed Lenders
City of Houston Mayor's Office of Business Opportunity.
John is relentless in his effort to lead the way for aspiring disadvantage and underutilized small business owners.
Information Overload – Paradigm Shift – Self Enlightenment
Before you make another decision in business or register for any other training or workshop session, you absolutely must attend this presentation given by John "Jonyprofit" Whaley. He will give you the big picture down to the details. This short but powerful session is definitely information overload at its best.
Many of you have heard Jonyprofit speak on lighter issues such as social media, financing your business or creating business plans. The material presented this time represents what the rest of the so-called "experts" either cannot or will not tell you about how to really play the game of personal economics. This is the missing piece of information that many faithful, hardworking and smart individuals truly do not comprehend about business even at the MBA level.
This is your once in a lifetime opportunity to break free of the pack. There is no hype about getting rich, fancy cars, big houses, or incredible trips. You will not hear traditional outdated stories about one-off success super companies or people that started with nothing and now have billions. Instead, you will explicitly learn how the people around you can make or break you, more importantly you will discover exactly who, why, what, when and where these people need to be in your life.
  Presenter and Speaker Feedback about Jonyprofit

"You need to understand the game before you select a position or buy equipment, business is a contact sport with a lot of veteran rookies" ~ jonyprofit
Experience
Business Planning, Public Speaking, Radio and Television Personality, Video Production, Business Consulting, Business Process Analyst, Business Start-ups, Marketing and Advertising, Education Trainer and Web / IT /Graphic Design.
Phase I Mindset Session – Be Your Own CEO / Business Developer
What You Should Gain From The Session!
Yes! You Discover What Matters
Economic conditions are greatly influence by supply and demand. But very few aspiring entrepreneurs focus on what is in demand and how to add value to the supply. Worse yet, many fail to shift markets when demands fall or supplies saturate the market place. You will have a clear understanding of what drives our economies.
Yes! You Understand Who Counts
Often people mention it's who you know that makes the difference, I challenge you to take this a step deeper. It really comes down to who knows you and what you have to offer them when it's time to do business. Avoid being bamboozled by those with high sounding positions but very little power to help you. You will truly gain insight about the concept of Power, Privilege, Purpose and the Poor from Jonyprofit. Learn to leverage socioeconomic differences in your favor.
Yes! You Learn Why Markets Exist
At the CEO / Business Developer Level it is no longer about the customer. You must focus your attention on resources, consumer behavior, regulatory bodies, social and economic competitors, financial markets, and much more. You will exist this session with a primer that will place you business acumen in the Top 5% of the world's population.
2010 – 2013 Speaking Engagments:
SCORE – SBA Small Business Awards Luncheon – Presenter
SCORE – Palm Center/Houston Small Business Development Corporation – Presenter
SCORE – Sunnyside Community Center w/ Capital One – Presenter
SCORE – Port of Houston w/Small Business Development Center UH – Presenter
PERT Center Inc.  – Houston Community College – Lecture, Classroom & Presenter
PERT Center Inc. – Government Procurement Conference Lecture Series – Presenter
PERT Center Inc. – Texas Association of Business Brokers /Institute of Certified Business Counselors – Banquet Keynote Speaker
PERT Center, Inc. Houston West Chamber of Commerce Breakfast Keynote Speaker
PERT Center, Inc. – Houston Area Glass Association – Dinner Keynote Speaker
PERT Center, Inc. – Goldman Sach's 10,000 Small Businesses Initiative – Social Media Marketing Trainer
PERT Center, Inc. – Big Boom Business Plan Institute: PVAM – Topic: Tools for Raising Money Online
PERT Center, Inc. – Small Business Growth Summit – MC / Panel Moderator
PERT Center, Inc. – Kingdom Builders and Score- Social Media for Entrepreneurs
PERT Center, Inc. – Kingdom Builders and Score- "Straight Talk" Panel Moderator